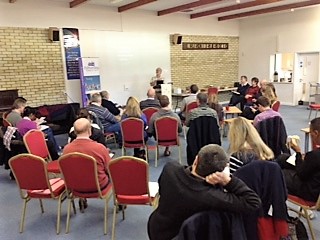 Jesus instituted a very flat structure among his disciples (you are all brothers and sisters – Matthew 23:8-12 ) so in one sense it is the same preparation and training that every believer needs to be effective in their lives for God. However with increased responsibility comes the need for better preparation and often deeper training in specific areas of ministry.
Discuss with your mentor (hope you have one by the time you've read this far!) the following checklist and make some specific programmes that you start following immediately, as well as plans to engage with some of the more intense training available.:-
Knowing and using the Bible well
Whatever your calling, as Paul says, it is the Scriptures that inform, shape and transform us to become effective and fruitful servants of God (2 Timothy 3:14-17). Or as Jesus pin-points it, the Scriptures speak of Him. So as His disciples we should be true students of the Word of God, constantly learning and growing in the ability to allow God's word to speak into people's lives. Discuss your progress in these matters:-
Personal systematic reading programme
Systematic Biblical and theological studies
Ability to interpret and apply Scripture accurately and effectively (Hermeneutics and Homiletics)
Shaping your Character
Jesus lays the challenge down, having spoken of the importance of our attitudes and character (The Beatitudes), "YOU are the light of the world … the salt of the earth." What we are speaks louder than what we do, and often times drowns out what we may actually say. Discuss your progress in these matters:-
Personal discipleship programmes
Mentoring, advice and counselling in how to overcome key character flaws, bad habits, or addictive behaviour.
Skill Development
Many of us come from a tradition that both taught and practices that training and preparation for ministry can and should be done in the local church. While there may be more intensive ways and specialist training that you will need to access elsewhere, the foundations for ministry will always be laid in the forum where you will most often be ministering – a local church. Discuss ways that your present activities in a local church can be improved and developed, and also possibilities to explore additional activities and ministries in your local church or town along with other local churches:-
Identifying your key spiritual gifts and main ministry areas
Seek coaching and critique in specific activities and ministries
General wellbeing
Identify physical issues work on ways of improvement (physical fitness, weight,
Mental health issues – identify issues and work on management strategies (how do you handle stress being a key one!)
Click here (link to Next page -) to investigate the possibilities of a dedicated apprenticeship programme leading towards intensive Christian service or Contact us (link to contact form) to discuss options.
Key Training schemes within the network:-
Tilsley College (GLO) – tilsleycollege.com
Joshua Project – tilsleycollege.com
Learning to Lead – ltlinternet.org
Emerging Evangelists Institute – billygraham.org.uk
Bible Education Services – besweb.com
Cor Deo – cordeo.org.uk